---
---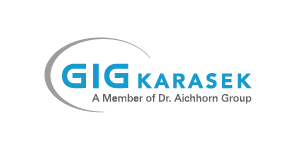 GIG Karasek – Specialist for Recoveries
GIG Karasek is a globally acting european supplier of high quality process design and turnkey industrial plant construction in the field of thermal separation technologies and equipment for the fibre-, pulp (dissovling, sulfite, kraft)-, starch-, chemical, pharmaceutical-, food and related allied industries.
GIG Karasek has realized pilot plants, skid units up to full turnkey industrial plants on EPC basis worldwide. Beside conventional evaporation technologies, distillation and rectification, GIG Karasek draws on its extensive experience and expertise in the design and production of Thin-film, Short-Path and High viscose Evaporators as well as on vertical and horizontal dryer solutions.
Further GIG Karasek runs its own research centre situated in Gloggnitz, Austria. The complete set of unit operations in the pilot plant includes falling film evaporators, thin film evaporators, wiped film evaporators, short path evaporators, high viscose evaporators and drying systems. We can develop your process, generate real process operating data, optimize design and formulate your new products under GIG Karasek expert supervision. We can also generate samples for evaluation and testing and can achieve complete demonstration of equipment. All this can be done before expenditure of capital.